At Mallar Decoys we are proud to carry forth the tradition as caretakers of these great sculptures in wood.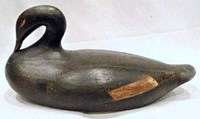 Because we grew up in Maine, we cannot help a slight bias toward the sea duck, eider, scoter, and old squaw. Although some clients may share our preference, many others have other favorite species. Because everyone shares a common enthusiasm for decoy collecting, Mallar Decoys consigns and sells all species from all regions with equal vigor.
We welcome your business whether you make a purchase from our on-line Toller Shed or we can advise you on the placement of your decoys or collection in a number of national or regional auctions.
We assess collections for free. Appraisal is a good idea to protect your decoys against loss through your insurer. We also answer questions for free and will chat about decoys anytime you wish because we love it!